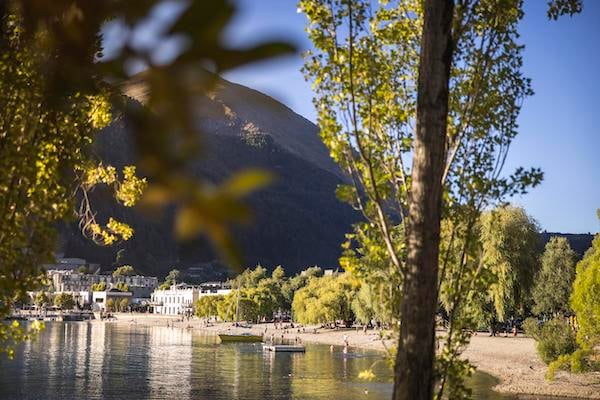 | | |
| --- | --- |
| GOAL | RESULTS |
| To improve the organisation of thousands of assets, their searchability, and application of appropriate rights. | Assets are always available, easy to find, internal and external collaboration is improved, and production times streamlined. |
The picturesque Queenstown Lakes District in New Zealand was formed by glaciers, rivers and lakes, but it's reputation as a premier adventure tourism destination has been shaped by innovative adventurers and pioneers from all over the world who have made Queenstown home.
Daniella Jones is the Brand and Marketing Executive at Destination Queenstown. She works alongside the marketing and trade teams on various initiatives to promote Queenstown as a desirable destination. She is also one of the gatekeepers of the Destination Queenstown brand and manages the organisation's visual assets.
The Challenge
Queenstown attracts many visitors throughout the year and as one of the most popular travel destinations in New Zealand, the Destination Queenstown team is busy creating visual assets and promoting this stunning town to attract high contributing visitors.
"Although I personally wasn't involved in the DAM selection process, the likely reasons Destination Queenstown was looking at DAMs was to improve the organisation of thousands of assets, their searchability, and application of appropriate rights," says Daniella.
Destination Queenstown works with many external partners, such as photographers, video producers and a design agency, ensuring appropriate rights were applied to digital assets was an integral part of managing assets and the team identified there were improvements that could be made by finding a streamlined approach to how rights to individual assets rights were communicated.
Project Details
---
Destination Queenstown - a Regional Tourism Organisation in New Zealand – has been responsible for promoting Queenstown domestically and internationally since 1996. The organisation is responsible for the branding and positioning of Queenstown as a world-class visitor destination and a leader in regenerative travel.
Customer
---
Name: Destination Queenstown
Website: queenstownnz.nz
Industry: Travel & Hospitality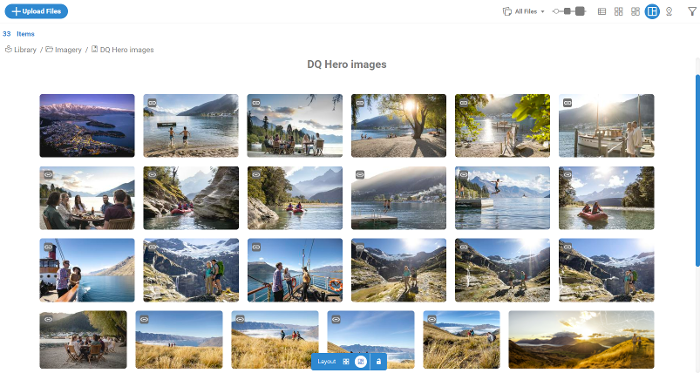 The Solution
Having an intuitive, easy-to-use digital asset management (DAM) system that provides easy tagging and metadata editing, and most importantly – digital right management (DRM) functionality in place was the right choice for Destination Queenstown.
All visual assets like photography and videos are now stored in their Canto library. Canto provides great categorization and tagging features so the entire Destination Queenstown team is able to use the platform confidently instead of relying on certain team members.
"I love the Bulk Uploads!" says Daniella. "It's such a time-efficient way to load a lot of assets in a short time. Adding and editing metadata upon upload helps to keep our assets organised."
Nearly everyone at Destination Queenstown is empowered to use Canto, from consumer marketing, media and communications teams, along with Trade marketing and Queenstown Convention Bureau all access and use these assets to create marketing collateral, publish on website, in social media posts, or to create other visuals that support their marketing efforts.
"Giving autonomy for select partners such as our design agency and video producers to access Canto really streamlines our production time," adds Daniella.
Canto makes digital asset management more efficient
Moving to Canto DAM has been a success for more reasons than one for Destination Queenstown. Everyone can locate, use, and share assets quickly and easily due the Advanced Search functionality. Teams see improved collaboration internally and externally. But most importantly – having the tools to record asset rights information and ability to set expiry dates give Daniella and her colleagues confidence only appropriate assets are being used.
"Having a record of the Rights information has been incredibly helpful and empowering, the teams know what assets they are able to use without any guesswork," says the Brand and Marketing Executive.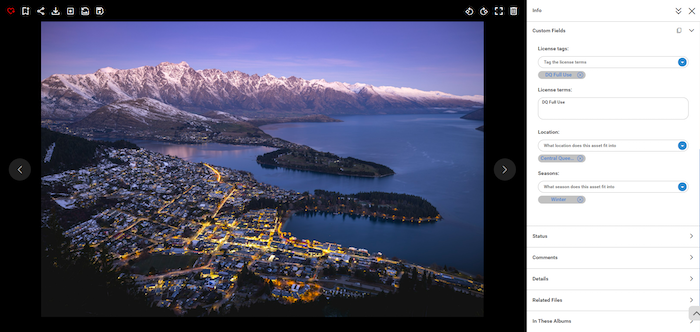 Daniella and her team find My Collections very useful for collating assets for various projects in a separate place to have an easy overview of how all the assets are working together before they are shared externally.
The main goal for Destination Queenstown is to showcase Queenstown as a great travel destination with ambitious goals around regenerative tourism and achieving a carbon zero visitor economy by 2030. With their photos and videos organised in Canto, assets are always available and easy to find. This has empowered not only Destination Queenstown to tell the region's amazing story, but other partners as well.