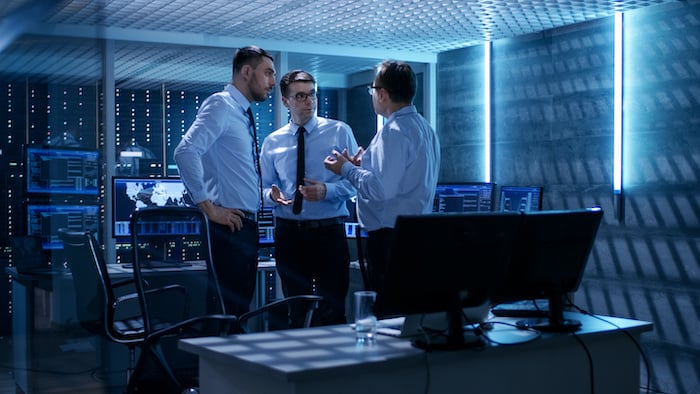 Have you decided a DAM solution would benefit your organisation? Digital asset management selection usually involves aligning the needs and priorities of the main DAM stakeholders across the organisation. Identifying the departments, teams, or individual people – also referred to as "stakeholders", that would benefit from such project is vital. You need everyone's buy-in for the project to be successful.
It is important to understand what each of the stakeholders' must-haves and deal breakers are. In this 3-part article series we will look at each team of core DAM stakeholders within an organisation. This article's focus: IT.
If it ain't broken, don't fix it. Or - do you?
Most people like routines and are resistant to change – why should you change something that's working, even if it could be improved. Implementing a DAM system has many benefits for an organisation, however it could affect existing workflows of team members and might be seen as unnecessary. This is the main reason you should identify all members of an organisation that the DAM implementation project could affect. Otherwise, you might come across a team member who could challenge the necessity of the project.
So, who are the right people to get into the room?
Who are DAM Stakeholders?
A projects stakeholders are people who have vested interest in the project, or simply said – people who will be directly affected by the project's implementation.
For you DAM initiative, you need to gather a team of stakeholders from across the organisation who represent the people who will be using it and who have use case expertise – business users and leadership.
DAM STAKEHOLDERS:
IT Department

- CIO, Head of IT, IT Manager

The IT Department typically takes charge of supervising technology projects across the organisation and making necessary improvements to enhance the company's ability to achieve its business objectives while minimising risks and downtime. Their role involves managing technology portfolios for various departments, conducting audits, and monitoring existing tech solutions.

Ultimately, the IT Manager establishes and enforces policies and procedures to ensure that all technology implementations enhance business processes and boost user satisfaction.
When selecting a DAM solution, your IT Department's must-haves
Security
Compliance and governance
Strategic alignment of technology with organisation's needs
Technology adoption and Return on Investment
Security
Security is non-negotiable when choosing a DAM solution, as it safe-guards sensitive company's and customer data, protects against legal repercussions, build trust, and mitigate cybersecurity risks.
Read more on cybersecurity.
Canto DAM solution adheres to ISO27001 and SOC 2 standards, showcasing its dedication to stringent security measures. To further emphasize Canto's commitment to our Australian clientele, Canto has established an .au subdomain, with all data stored within AWS Sydney, while backups are maintained in AWS Melbourne. With Canto, we guarantee complete data sovereignty coupled with unmatched data security and privacy standards.
Compliance and governance
Besides the functional requirements the DAM business users focus on, your IT Department needs to make sure the regional Australian and New Zealand, as well as industry-related compliance certificates are in place.
Databasics is ISO27001 and ISO9001 certified and have structured our DAM solutions to ease the burden of compliance management.
See our Compliance and Security page.
Strategic alignment of technology and organisation's needs
Besides ensuring security and compliance, your CIO makes sure the technology stack serves the organisation's strategic objectives, providing tangible business advantages.
When selecting a DAM, it is important it optimizes existing technology investments. As such, the DAM solution should offer native integrations or API's for interoperating with core technologies of the organization, and be maintainable and sustainable within budget constraints.
Canto has been at the forefront of DAM industry for the last 30 years, focusing heavily on innovation, performance, and improvements.
View Canto's integrations.
Technology adoption and Return on Investment
Your CIO's ultimate goal is the efficiency and productivity of all DAM stakeholders, ensuring the DAM solution is adopted to its full potential.
Databasics delivers more than just a robust DAM solution. We present a comprehensive suite of tailored services to champion your implementation journey. From methodical onboarding processes to unwavering post-purchase helpdesk support and adept consulting, we further collaborate with local Australian DAM system integrators, ensuring precision alignment with your organisation's distinct requirements.
View databasics' personalized services options.
Calculate your potential annual savings: DAM ROI Calculator.
What your IT Department would love to have
DAM solution that's proven and credible in the marketplace.
DAM solution that offers longevity and not require replacement.
Reliable local partnership.
No increase in workload!
DAM solution that's proven and credible in the marketplace
An industry leader and trusted vendor will ensure a solid solution, focus on innovation and performance.
Databasics has partnered with a global leader – pioneer of DAM – Canto, who's only focus is their SaaS digital asset management solution - Canto. Canto is regarded as DAM innovator, recently being the first DAM solution to add AI Visual Search to their feature list.
DAM solution that offers longevity and don't require replacement
Many DAM vendors have popped up in recent years globally, providing boutique DAM solutions, typically smaller in size and with limited budgets. These smaller solution vendors run a high risk of being pushed out by the larger, mainstream industry players in the years coming.
Reliable local partnership
Solution and services availability from a local trusted and recommended implementation partner ensures your DAM project success.
Databasics has an established reputation for quality and compliance, upheld by 30 years of experience in the DAM domain. Our high level of compliance qualifications and locally-based operations substantiate the credibility and reliability of our services. Trust is earned through consistent reliability and transparency.
Read Digital Asset Management explained to an Australian IT Manager to learn how we fit into the Australian IT landscape, adding to our trustworthiness.