Why digital asset management is important for business owners?
March 30, 2023 •Ricky Patten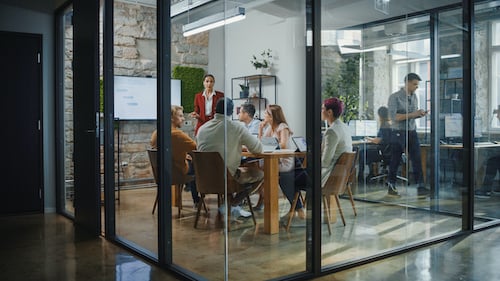 Are you wondering why digital asset management is important for business? This is a story of a CFO, a Marketing Manager, and an IT Manager of a construction company who a year ago were at their weekly senior management meeting setting on a quest to find a solution to their digital asset management shortfalls that have been keeping the management up at night due to legal concerns, staff challenges and upcoming network upgrades.
Today, they are meeting again, reflecting on the solutions they found and benefits they have seen – both - for the entire company, and individually. Read their story and see why digital asset management is important for business owners.
Copyright infringement, staff dissatisfaction, network overloads..
It's Tuesday afternoon, you find yourself growing frustrated with the senior management team meeting. Despite your best efforts to keep things on track, the conversation has once again moved into the same tired topic. The CFO, who also serves as a legal counsel, is insisting on addressing the content issue before it results in another lawsuit.
Meanwhile, the Marketing Manager is bemoaning the company's inability to retain talented staff. It seems that even the most promising designer hires quickly grow dissatisfied with the organisation's limitations.
The IT Manager expresses concerns that implementing the wishes of the designer would require upgrading all email servers and firewalls, which cannot handle the transmission of large photos and videos. Additionally, the average file size of Word and PowerPoint documents has unexpectedly increased to over 20MB, despite efforts to limit the use of high-resolution images. If this trend continues, the company will need to spend $40-50,000 to upgrade the network, or risk causing a complete system failure.
Despite ongoing discussions at senior management team meetings for over a year, a solution to this problem has yet to be found, consuming an estimated ten hours of meeting time annually.
How can poor digital asset management affect your business?
Let's take a look at core issues at hand here.
Issue 1. These days, nothing happens unless there are at least 20-30 photos to go along with it. It could be a new field project, a new page on the website, one of the three social media posts every week, or even a colleague's birthday with hundreds of selfies sent out to the team and posted on Facebook.


Issue 2. Some of those photos are absolutely necessary. In today's health and safety environment, photos of the worksites and various team members are required to document our procedures so we can keep all of our ISO certifications. You're told (and you can't help but believe) that the ever-increasing $3,000-per-year professional photography bill is necessary if marketing is ever going to deliver a new lead.
While some of those photos simply aren't relevant, do you really need to take photos of all your equipment every week for maintenance and repairs? Do you really need to keep all those photos forever?
And then there's the ever-growing number of lifestyle photos that HR tells you are key to your company culture.


Issue 3. Where are all the professional photos stored? As you can see, it's always a case of "I can't find them … I can't use them". Let's get more photos taken and put off the project until it's finished.



Issue 4. And then there's this – no one prints anything.

It's up on the web, on Facebook, on Twitter, distributed to anyone who needs it.

Then it's sent via Dropbox by photographers.

And then it's downloaded.

And uploaded. And then uploaded again.

So why does the IT Manager keep shaking her head?

She's sending you proposals to update the network again.

That's not cheap.

Issue 5. Now everyone wants to take videos, not photos, and you must think of how much larger they are..
We needed to either solve these issues …or take an early retirement – it was just too difficult to manage. What do other companies do in this situation? Surely, we are not the only business with digital content issues?
What is digital asset management? Also termed as DAM.
So, what does it mean?
Asset management vs digital asset management
An asset management system for our construction business keeps track of all the things we buy, how much it costs, where it's purchased from, when it needs maintenance, who to call to fix it, how long it's going to last before it's time to replace it?
A table?
Yes, that's exactly what it is.
The asset management system is used to keep track of physical assets, such as:
- Tables, desks, printers, copiers
- Tools
- Trucks
- Equipment and more.
An asset management system is vital to your organisation because it provides you with the current value of your organisation based on what you own, current value and the liability you have to keep things running.
A Digital Asset Management (DAM) solution manages your digitally created assets, content, files, audios, documents, etc. It provides some key functionality that defines usability:
A central location where all your digital assets, such as photos, videos and audio files, are stored.
Everyone knows where to find this content (a modern phrase used to describe photos, videos, creative files, etc.).
Security, backup and privacy are included in the central location, so your IT costs don't add up.
A major capability is to provide all the services your marketing team needs, such as Submission, Approval, Sharing, Self-Serve portals, Desktop integration, etc.
Just like the asset management system, a DAM provides all the ownership information, including:
- Do you own the content to use it?
- Is it licensed?
- Can anyone access it?
- Should only the design team or marketing team have access to it?
- All the information your organisation needs to ensure you stay legal and avoid getting sued.
There are many other benefits to a DAM solution, but that's something you'll need to leave to the experts on your team to explore in detail. For now, all you need to do is focus on what's important to you as a business owner.
The cost of digital asset management (DAM) solution
How much will it cost to purchase a DAM?
How much is it going to cost to operate a DAM?
Do you need to hire new staff to run the DAM?
Remember - when you calculated the cost of your asset management system, you quickly concluded that the software cost was lower than the operating cost of having an asset management system in place. You needed dedicated training for your employees. You needed to select existing staff with appropriate HR support to add to their current roles. Finally, you needed to hire another person in your Operations team to update your asset management system.
Remember - the asset management system also allowed you to report to your board of investors precisely and concisely total organisational value. That's a good financial reporting function and a foundation to build upon with future sale forecasts and retained income. How do you ever expect to earn the trust and confidence of your financial investors without the first simple number of organisational value?
The asset management system came with a price tag and a huge business benefit.
Benefits of Digital Asset Management (DAM) solution
For starters, a DAM solution will provide you with the reporting you need to get to the bottom of your professional photography expense. You'll know how many professional assets you have, how many are currently licensed, and how many are out of licensed.
Your accounting system tells you how much you're spending on professional photography, but it doesn't tell you what kind of professional photos you have. It just tells you there's a big hole in your bottom line and that's where the money is being spent. Now you can shine a light into that hole and see what's inside.
Will it make your Marketing Manager happy? Will it make your sales team promise you more leads? That's what really matters!
Yes, getting a DAM will make your marketing team happy.
Well, maybe not everyone. Change always comes with its own set of challenges.
We saw this when we implemented the asset management system. Before, everything was printed out and filled in manilla folders. You had to go around the company one by one and ask people what maintenance work they needed to do next month. Most people would stare at you and say, "I'm too busy to answer right now". Most people didn't have any real answers, but they had a strong suspicion that there was too much just in time management going on, no planning.
When we finally implemented the DAM, all the skeletons started to fall out of the closet. One staff member even quit because they felt too exposed! But now that hurdle has been taken care of, everyone benefits, and you can sleep easier at night.
Will adding a DAM change that? The answer is a resounding yes. Some staff will feel like everything was fine as it was before (they didn't have to sit through those Tuesday afternoons of senior management meetings). Most staff will be overjoyed to finally have the correct content, the correct format, the correct size, the right time. It's that simple.
What does the senior management think of the DAM solution?
DAM for Marketing Manager
No more messing around with photographers' Dropbox accounts and whoever is sending us content. We now include an upload link in every job we commission, and the content is already in the DAM. All that's left to do is review, comment on the content, re-upload the updates, final approval and then we're good to go.
The sharing functionality is the best part. We have a few portals built by my own team. They may look like we paid for them to be built by web developers, but that is not the case. They are really easy to get up and running. They keep all our branding in mind. They deliver the right content that is fully compliant with our target audience. One for the sales team, one for the outside design teams that we work with and one for the print media. They love it!
Ask our new design team. Yes, I got that amazing designer back on the team. We showed her how to access the DAM directly from within all of her Adobe apps. She was sold. She's now twice as productive as she was before. She loves using the DAM because it allows her to keep her work-in-progress files in her private workspace and show them to me only when she is ready. She values the quality of her work and the value she gets from using the DAM.
My next projects will be to take the entire marketing strategy to video first, leveraging the existing DAM that comes with a full suite of video capabilities. Reducing costs and enabling us to share that video in more impactful ways than ever.
DAM for IT Manager
This is what I call a "solution"!
No more requests to upgrade the network – we don't need them and probably won't need another upgrade for a few years until the current hardware needs to be replaced due to age. This will save us a lot of money!
What you may not know is that the DAM we chose is a cloud-based software-as-a-service (SaaS) solution that runs on Amazon. When content is delivered to us or shared with our website, external stakeholders and the press, the content doesn't actually go into our network. It's all kept at arm's length in Amazon. This means we don't have to pay for the solution, network, bandwidth or team to keep it running. We just pay for an annual subscription and that's it. An easy-to-manage, budget-friendly solution with a predictable outcome.
I have fully vetted all of the provider's security and privacy credentials. Their processes are more extensive than we could ever imagine, and I and their team fully understand how important this is to us. With SOC 2 and ISO certification on their own website, we can refer back to this in our process documentation to get that magical seal of approval to work with the customers we're looking to sell to.
DAM for CFO (aka legal team)
Hooray, just in time!
I strongly encourage the whole company to use the DAM as the single source of truth.
Not only does it save a lot of time, but it also provides us with a documented process to demonstrate that the whole organisation is compliant with the copyright and ownership legislation.
Even if a mistake is made (and it's really hard to make a mistake with the new DAM, but you know mistakes do happen eventually) I can demonstrate full diligence with our process.
I only have to spend a few hours making a sincere apology every year and I can demonstrate that we have a well-documented process in place. Maybe the web team should post that on the website to support our ISO certifications?
Does this sound like your dream?
Take a look at some of the amazing DAM customer success stories out there for organisations like yours on the web. Or learn about DAM best practices.
Have a few phone conversations with some of these DAM vendors, see what they have to offer you and your company.
And most importantly, schedule your next Tuesday afternoon SME meeting early so you can go home and spend some quality time with your family.